Former Major League Baseball star Jose Bautista says his notorious 'bat flip' in a crucial game in 2015 was purely spontaneous.
Bautista was playing in Game 5 of the American League Division Series against the Texas Rangers when he produced one of the most iconic moments in the history of the sport.
The Rangers had led the series 2-0, but the Blue Jays fought back to level at 2-2 and set up a winner-takes-all deciding game.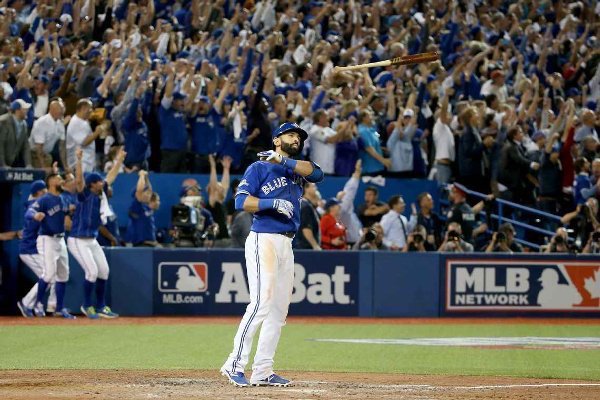 The teams were tied at 2-2 heading into the seventh inning, before an error by Jays' catcher Russel Martin allowed the Rangers to move ahead.
Josh Donaldson drove in a run to level the game again, setting up Bautista to step up to the plate and write his name in the record books.
He subsequently hit a three-run home run to secure victory for the Blue Jays, sparking wild scenes of joy at the Rogers Centre.
Bautista celebrated with a 'bat flip' – a celebration that is often viewed as disrespectful to opponents, but one which he says he does not regret.
"I've talked about it 1,000 times before, but it doesn't get old," he told Betway. "It was a great moment for the fan base and for our team.
"I was just trying to get the ball in the air, drive a run in. I was able to hit that ball well, and it went out. The bat flip was definitely not something I had in mind, but we had a great series against those guys, a great battle.
"We were down two games, and then we came back and tied it, and in that Game 5 there was a lot of back and forth."
Bautista's celebration sparked fury amongst the Rangers' players and he was widely criticised by the media after the game for his 'unsportsmanlike' behaviour.
However, they had not taken into account the relief Bautista must have felt after finally ending Toronto's long wait to make their mark on the play-offs.
His bat flip sparked plenty of debate about the validity of baseball's archaic unwritten code rules, many of which have their roots in the early 1900s.
While countries such as South Korea happily embrace flipping bats, it is still considered by some people to be hugely disrespectful in North America.
Quite how an adrenaline-fuelled celebration is considered rude but throwing a baseball at someone's head in retribution isn't is undoubtedly one of life's great mysteries.
For Bautista, he admits he was simply lost in the moment of delivering one of the most thrilling moments in baseball history.
"The fans were going nuts – we hadn't been in the playoffs for 22 years, the energy in the stadium was contagious," he added. "It was just a combination of all that emotion at the same time.
"I definitely didn't plan it – I don't even remember doing it! I kind of came to a few minutes later on the bench as I was catching my breath. It was one of those moments where you kind of black out. 
"Unfortunately, we couldn't make it to the World Series, but it was a great moment. I think the fans are gonna remember that for a while."