Six-time world champion Steve Davis says Ronnie O'Sullivan's recent comments about young players were an unfair assessment of the latest state-of-play in snooker.
O'Sullivan claimed he would have to 'lose an arm and a leg to fall out of the top 50' in the rankings, but Davis believes he is doing a disservice to the sport.
"At the turn of the century Ronnie O'Sullivan was a lot easier to beat – I beat him in the 1997 Masters from 8-4 behind," Davis told the BBC.
"He was nowhere near the player he is now – maybe the same is true of Mark Williams and John Higgins.
"Wait until these young players are in their mid-thirties before you make a judgement on them.
"The likes of Jack Lisowski and Zhao Xintong are talented but effectively raw compared to John Higgins and Ronnie O'Sullivan."
Davis' observations are particularly pertinent as they were delivered just days after the infographic was revealed that a changing of the guard is underway in snooker.
Snooker has historically been dominated by British and Irish players, with stars such as Davis, Stephen Hendry and O'Sullivan enjoying sustained periods of success since the 1980s.
A quick look at the list of previous world champions further highlights the point, with just three overseas players winning the title since its inception.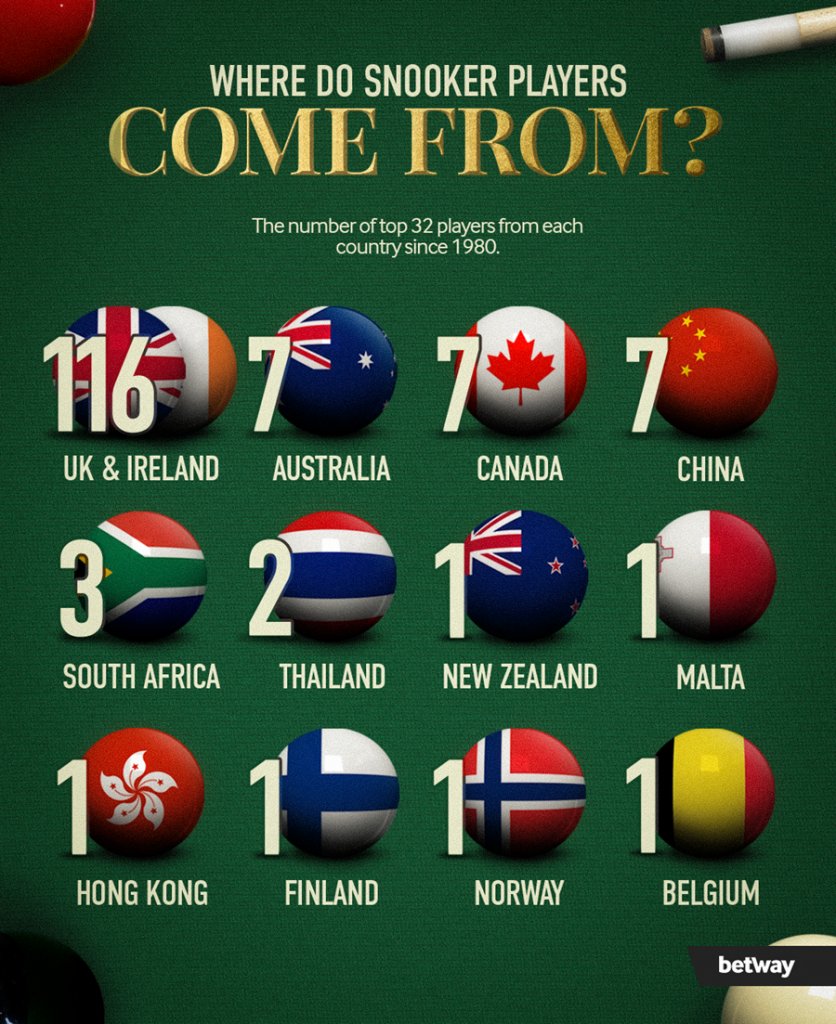 Australia's Neil Robertson is the only player from overseas to lift the trophy this century, but Betway's research strongly suggests that the balance of power may be shifting.
In the last 40 years, 116 of the 148 players to have featured in the top 32 of the rankings were born in Britain or Ireland.
However, the push to make snooker a more global sport is beginning to make a difference, especially where Asian players are concerned.
Ding Junhui's unexpected victory over Stephen Hendry in the final of the 2005 China Open proved to be the catalyst for a new wave of players from Asia to take up the sport.
The Chinese star has continued to blaze a trail since that success, winning 14 major ranking titles including the UK Championship on three occasions.
His impact can be seen in the current rankings, with Asian players filling seven of the top 32 places and many more on the cusp of making a breakthrough.
With O'Sullivan and many of snooker's other top stars all in the veteran stage of their respective careers, there is likely to be plenty of movement in the rankings over the next few years.
Asian players appear well placed to take advantage and it would be no surprise to see them become the dominant force in snooker in the not-too-distant future.